Bricks & Bytes: LEGO's digital rebirth
In 2016, the LEGO Group for the first time since company launch could name itself the world's largest toy manufacturer. There is one particular reason for that milestone in the Danish company's history: The progressive dealing with digitalisation.

LEGO: rebuilt brick by brick
Things did not always look that bright for the family-owned company. In the early 2000s, it went through a near-death experience. The uprising video game industry started to take the toymakers place in the heart of the children. Thus, in 2003, the company reached its all-time low in sales. They were $800 million deep in debt and close to declaring their bankruptcy. Therefore, in 2004, after swapping out its CEO, LEGO realised a major organizational transformation. This transformation was accompanied by a strategic digitalisation initiative.
Since then, LEGO undermined this digitalisation initiative through several actions with a clear and progressive mindset.

"We have to view it as an opportunity. Anywhere the children want to be, we have to be as well."- John Goodwin, former CFO LEGO Group
LEGO always stayed focused on its core product: The physical brick.
Still, instead of repressing digital change due to fear that an artificial product could replace the physical one, the company mastered the challenge of adding value to its product through digital benefits.
"What is obvious is the digital and physical is something of a distinction we make but children don't … we continue to be anchored in the physical brick experience. But we are going to explore more ways that you can build strong linkages between the physical and digital worlds," says John Goodwin.
These "strong linkages between the physical and digital worlds" are carried out in several different variations for the Danish toy maker.
Combining Physical and Digital Play
LEGO Fusion launched in 2013. It combines real builds with bricks with virtual games: users build something with the physical bricks and can scan the shape afterwards with a smartphone app. Then they watch their creation become part of a virtual game.
Although the toymaker already successfully launched several branded Video Games such as Star Wars or Batman, the introduction of LEGO Dimensions in 2015 marks a bigger step in terms of digitalisation. LEGO Dimensions combines the physical and digital. The player collects LEGO Minifigures which are playable within the game. For that, they need to be put on a brick-gateway.
Crowd-Sourcing through Community Platforms
In 2008 LEGO Ideas launched. It is a website where fans share their homebuilt sets. Community members vote for them and if a set gets over 10,000 votes it goes to a review board. If approved by the board, the set will be developed in collaboration with the creator who receives 1% of net sales. The website has about half a million visits per month, over 100,000 registered users and serves to monitor trends and changing interests among LEGO fans. All this furthers the digitalisation of the company around product design and community building for the future.
LEGO's Digital Marketing
The company has stepped up the use of social media, the company flagship website, and websites specially designed for fan groups.  Besides that, it is one of the biggest brands on YouTube with millions of subscribers. It also started using interactive storytelling within online games to engage with fans. In 2014, the toymaker partnered with Warner Animation to release The LEGO Movie, a $486 million global blockbuster.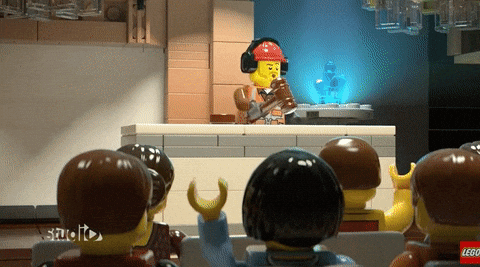 All those and many more digital steps lead to the new success of the LEGO Group. They made wooden toys in 1932 –  In 2015 it topped global rankings of the most powerful brands. This emphasizes how embracing digitalisation can not only save a company but also lead it to new heights.